Fetish.com | Building Kinky Partnerships at Eroticon 2019
In March, the Fetish team flew to London as major sponsors of the Eroticon conference for the third year running. As a conference for erotic creatives, Eroticon presents the perfect opportunity for us to mingle and network with influencers, top UK sex bloggers, erotica writers, and sex toy manufacturers. Not only that, the two-day conference enables us to promote our brand, bring influencers into our affiliate program and share our wisdom with content creators in a workshop setting. Wanna know more? More on that later…
Merch = Brand Awareness to Take-Away!
As with previous years, our Fetish.com merchandise was a massive success. This year, our merch set comprised of mugs, notebooks with our new tri-fold brochure, t-shirts, badges and tote bags. Everyone, including Molly Moore, Director of Eroticon, was in awe of our merchandising efforts and said: "Fetish.com has truly invaded Eroticon!"

How to connect Offline and Online?
All 150 Eroticon's attendees received a goody bag filled with Fetish-branded items. Nonetheless, we weren't about to give everything away so easily! Inside the goodie bags was a flyer instructing delegates to head to our stand to claim the other items of merch available, e.g., tote bags and T-shirts (or Tweet-shirts as we like to say). But to take away one of these awesome designs, attendees had to take a photo with the t-shirt and tweet it.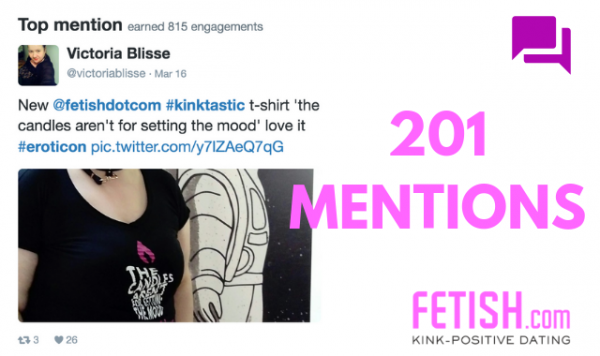 As well as delegates lapping up the merch on offer, the tweet-shirt initiative reflected in a mammoth increase of Twitter impressions and profile visits over the two days. During the Eroticon weekend, we received over 17K tweet impressions and more than 43K impressions in the 28 days since then – thanks to most of the attendees tweeting about our merch.
Building Win-Win Deals with Strategic Partners
Over the conference, the teams' networking skills landed connections with YouTubers Hannah Witton and Come Curious, sex toy creator Ruby Glow, and King Noire and Jet-setting Jasmine (well-known porn stars and activists behind Royal Fetish Films). Fetish.com Partnerships Manager, Diego also initiated conversations with potential leads for high-quality advertising sales such as Temptation Holidays, Hot Octopuss and ElectraStim. Working collaboratively in this way enables us to diversify our income streams and potentially ease the work for our PlayaMedia marketing colleagues.
Continuing the theme of partnerships, Diego, our Partnership Manager, managed to attend almost every session and speak with every speaker, sponsor, and attendee to pitch partnerships and collaborations. Go Diego!
A significant highlight was closing collaboration with Libidex – the UK's biggest latex retailer. As a result of meetings in London the following week, Libidex is sponsoring our next Treasure Hunt game which started 29th April. This partnership builds on our previous Treasure Hunt successes, which were sponsored by sex toy brands Mystery Vibe, whom we met at last year's Eroticon – and before that, with Honour.co.uk.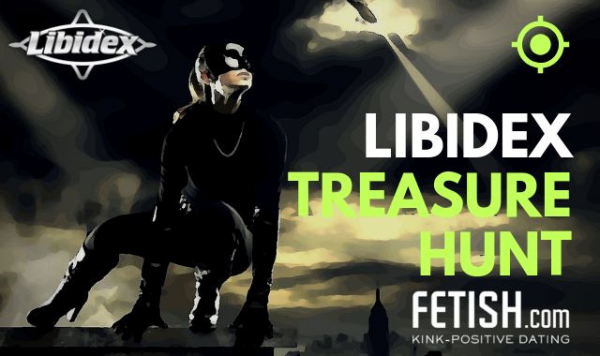 External collaborations like this are vital to us offering something tangible to our online users. Our last Treasure Hunt received an impressive 84,845 forum views and 1,900 forum posts across both languages, and for the Libidex hunt, we're expecting even better results.
Regarding affiliates, so far, 16 Eroticon connections have registered with their links on Hasoffer
s, and follow-up work aims to bring more into the fold.  
Meeting Needs by Sharing Expertise
As well as networking, Eroticon hosts many workshops and sessions throughout the weekend on a wide range of themes. On the Sunday morning, it was Fetish.com's turn to shine with our session 'How to Monetise Content – Launching your Pocket-Rocket' – created and delivered by our very own Miguel.  

Aimed at sex bloggers and erotica writers, the session allowed us to share insider knowledge that connected content creators with insights on how to make money from their blogs and written content, one example was using our affiliate program! The session was very well received and many of those who joined asked questions and came to us with ideas for collaborations. Now, check out the video below!

Breaking the Ice with Video Content
This year, the team took it up a notch and introduced a smart initiative called 'The 69-Second Challenge'. Eroticon attendees were challenged to answer as many questions as possible in 69 seconds while being recorded. As a prize, they got to collect a tote bag and t-shirt of their choice. Over 30 participants took up the challenge, and it proved to be a great ice-breaker to get to know delegates and show the fun side of Fetish.com – not to mention the videos serving as entertaining content for our members.
"I BOMBED this challenge but had a great time making it so be on the lookout; a lot of silly answers and serious laughs.
This is a fun quote from "Gay on Tuesdays" about Fetish.com
The 30+ participants all left the Fetish.com stand full of giggles and eager to find out whether they'd be the lucky winner. It all got hilarious when contestants got stuck on specific questions that were deliberately risqué – well, we are Fetish.com after all!
"Gay on Tuesday" also said about us:
"Fetish is a kink curious community that welcomes the kink curious, experts, novices, and beyond. This is a safe place for exploration run by a fantastic group of people."
Fun in Full Fetish.com Fashion
The week we spent in London proved to be more than worth it. We made terrific contacts, we whored out our brand, created some kinktastic content and came away with great ideas for the upcoming months.
We're very much looking forward to being the media partner of Passion this November in Hamburg: Europe's major BDSM and fetish fair – a 3-day event for almost 3,000 kinksters and the kink-curious.
---
Comments are closed.